Regardless of the weather in Florida rolling shutters Coral Gables is the best solution when you want to protect your home. They protect against windblown debris, sandblasting and water intrusion. Strong, safe and durable. Hurricane roller blinds are proven to reduce energy xcosts and maintenance. Making your home a more comfortable place to live.
The main benefits that our Rolling shutters Coral Gables
FIRSTLY, SAVE MONEY ON GLASS REPLACEMENT
SECONDLY, COMPLIANCE AND IMPACT RESISTANCE
ALSO, REDUCE INSURANCE AND NECESSARY EXPENSES
HARMONIOUS WITH ANY EXTERIOR
ALSO, EASY TO USE
Types of Rolling shutters Coral Gables

Hurricane shutters
It is the most cool protection against ice storms, snowfalls and heavy rains. And also from strong winds and various flying debris and dirt. our company provides a wide range of such tents.
Hurricane shutters protect your windows and doors from water intrusion and breakage during severe hurricanes and other adverse weather conditions. And it will bring comfort and protection at your home.
Storm shutters
Storm shutters are a broad category of storm protection products. Storm shutters are specially designed and developed for hurricane protection.
Solar blinds
Solar blinds are double-walled. It is filled with special polyurethane foam. all of this is designed to increase the R-factor. Outdoor roller shutters are 95% more energy efficient than all other sun blinds for homes or other spaces.
It have a lot of positive «side effects» due to their dense foam filled curtain profile and unique.
Privacy shutters
Privacy shutters are a great way to keep outsiders out of your home or office. Some of roller shutters are perforated to allow ambient light to enter if you need. lose food preparation areas, workshops, storage areas, gun safes, restrooms, wine cabinets and bars.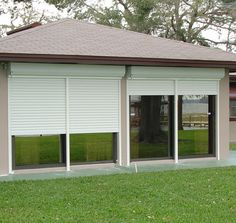 There are many more types, but we have already considered them in previous articles. We do not want to repeat ourselves, so just forgive the previous articles. You will definitely like it!
We are waiting for your calls and orders for Rolling shutters Coral Gables!
Trust the professionals (786) 405-8046